Built-in Screen Protector Anti-Scratched Full Protection for Samsung S22 Ultra Case
Last Minute - Sale end in
Description
Waterproof Galaxy S22 Ultra Case
KEY FEATURES
➤ Perfect Fit
This Waterproof Case only compatible with Samsung Galaxy S22 Ultra and fits perfectly with various cutouts and ports on the phone, easy access to buttons, speakers, cameras, charging interface.
 ➤ Excellent IP68 Waterproof
IP68 certified waterproof not only makes your Galaxy S22 Ultra extreme safe for daily use, but also for outdoor water sports, even after 1000 tests for 1 hour at 6.6 feet underwater.
 ➤ Military Graded Shockproof 
The Galaxy S22 Ultra Protective case has a built-in screen protector with a durable clear back cover to prevent scratches without affecting touch sensitivity. TPU+PC material provides premium shock absorption and strong anti-fall protection for your Galaxy S22 Ultra.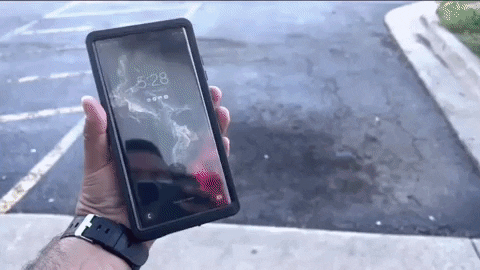 ➤ Thoughtful Design
Fully sealed. The transparent front and rear covers show the colorful colors of your Galaxy S22 Ultra and support wireless charging. Raised camera and screen bezels provide added protection, Anti-slip bezels with good grip.
 ➤ Fingerprint ID Film Operation
Step 1: Take out a fingerprint film and stick it into the phone screen's fingerprint unlock area. (Please make sure that there is no screen protector before you stick the fingerprint film on and clear the phone with the wipes)
Step 2: Remove the air bubbles between fingerprint film and phone with the scraper.
Step 3: Peel the transparent protective film off the yellow label.
Step 4: Install the phone into the case.
Step 5: Use the scraper again to make sure the fingerprint film stick to the surface without any bubbles
➤ Installation Guidance
Proper installation is important to successful use. Recommend removing the Screen Protector before installation for more flexible access to the phone.
The Galaxy Samsung 22 Ultra Waterproof Case phone has incredible video and photo capabilities with ultra-wide and telephoto cameras. With our waterproof case, you can take full advantage of this next-generation camera setup. Our cover is designed to be fully submersible up to 20 feet underwater for a full hour.
Our Samsung 22 Ultra Waterproof Case goes much further when it comes to protection though. The durable case has been military-grade tested to withstand drops from up to 6.6 feet. With a built-in anti-slip hand grip though, you can easily prevent most drops and falls.
Features:
☑ Full Body Watertight Sealed Shell
☑ Durable Built-In Screen Protector
☑ Lifted Bumper to Protect Display
☑ Military Grade Standard Tested
☑ Withstands Drops from 6.6 Feet
Specifications:
Shockproof: Yes
Non-Slip Grip: Yes
Screen Protector: Yes
Drop Resistance: 12 Feet
Waterproof Depth: 6.6 Feet
Package Included
Samsung Galaxy S22 Ultra Case x1