Baby Nappy Changing Bags
$142.78
Last Minute - Sale end in
Description
3 IN 1 DIAPER BAG with changing station
You have loads of things to carry around to serve your baby, but you want to keep them in only one bag. Convenience and dynamism are the useful that this product will bring to you and your baby
PRODUCT DESCRIPTION
🌟 Large-capacity & Multi-function Baby Backpack – have versatile design with 2 built-in. Measures 13.6×8.9×17.1 inch, bag is not only useful for accommodating the necessities of a baby, such as diapers, bibs, and other baby stuff, but also can hold mom and dad's phone, wallet, keys, makeup bags, etc., which are the most needed items in daily life.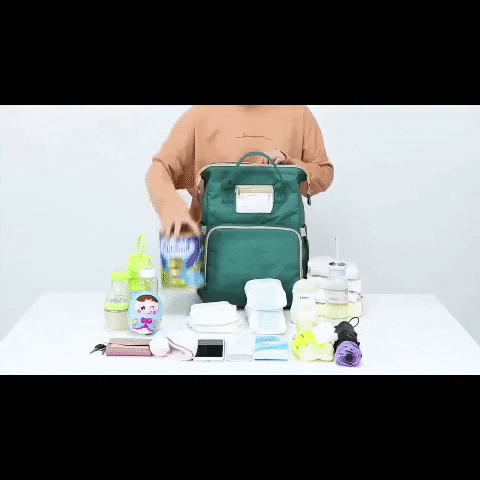 🌟 Portable Foldable Crib – which measures 29.5 x 13 inches. It can be easily installed and removed using 2 folding rods, and the changing pad can also be used as a sturdy mattress. Your baby can enjoy a spacious, clean, comfortable area by the changing bed for easy diaper changes and naps.
🌟 Convenient and Comfortable for Travel – scientifically designed individual pocket can help you keep things in order , so you can take everything you need out as soon as possible. Baby diaper bags are filled with wear-resistant material and soft, breathable sponge to reduce shoulder and back discomfort.
🌟 Premium Material – made of waterproof and tear-resistant oxford cloth that is easy to clean. The interior is made of polyester and has a waterproof zippered pocket for wet. The smooth zipper closure is easy, the stitching is neat and secure, and thanks to its high-quality metal frame, the Diaper Backpack retains its structure no matter where you are. What's more, the baby bag with changing crib is eco-friendly, free of harsh odors and BPA.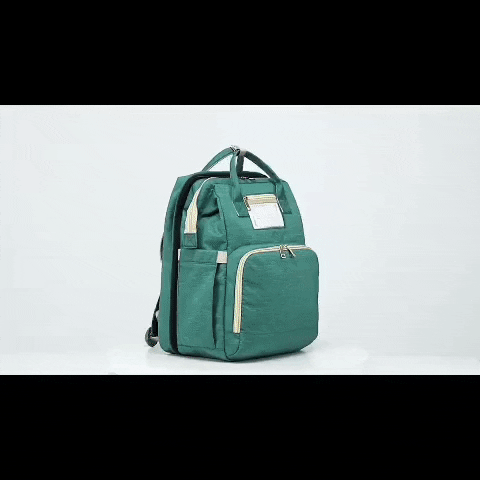 🌟 Great Multi-pockets Design – With 16 different purpose pockets, you're sure to have enough space for all the essentials. 3*insulation pockets , 4*pockets for diapers, bibs, 1* waterproof bag and 1*bag to store other things you need. 2 side bags for bottles, wipes or tissues. On the back of the diaper bag is an anti-theft bag for phone, cards, etc. It also has 2 pockets of crib for small items while you use it.
🌟 Excellent Baby Shower Gift – It is also one of the maternity essentials and an excellent gift for a gender-neutral baby for new parents.
SPECIFICATION
PACKAGE INCLUDED
Diaper Bag x1
Built-in baby carriage buckles x 2
NOTE !
To prevent strollers from tipping, please make sure that you have detached the diaper bag from the stroller before removing your child.
To prevent straps being entangled when the backpack is hanging on a stroller, please make sure that shoulder straps are in line well that they would not entangle.